Climate Controlled Piano Storage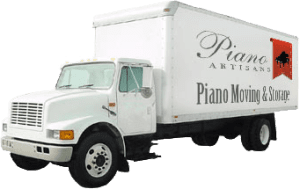 Climate Controlled Piano Storage
Piano Artisans only Piano Storage Facility in Southern California with a regulated climate controlled environment which is necessary for your piano. Your cherished piano will never be exposed to harmful UV rays, weather, or bugs. We take every precaution to insure that your piano is safe and in a controlled environment similar to your home. Climate Controlled Piano Storage.
Quality, Dependability, and Service!

Climate Controlled Piano Storage: Prices Start at $75/month
We offer the very best climate controlled piano storage in all of California. Our facilities are all about the details.
 Additionally we offer a full array of restoration and cleaning services, think "vacation for my piano" when you think of Piano Artisans.
Climate Controlled Facility Piano Moving & Piano Storage
Short Term Piano Storage
Long Term Piano Storage
Dust Free Environment (vacuum controlled)
High-Quality Moving Blankets are always used
All Pianos are stored a minimum of 3.5″ off the ground
Pest Controlled
No UV exposure
Secure Environment
In-Home and In-Storage Piano Services: Prices Start at $79
We offer full spectrum In-home & In-Storage Piano Services.
Basic Piano Cleaning, exterior and interior (removal of dust and debris)
Piano Deep Cleaning- reme oxidation on the strings, lubrication of the action and all friction points, polishing of tarnished hardware.
Piano Hardware Polishing- remove all oxidation on all exterior and interior hardware(polish & buff to like new conditions and coat with specially formulated lacquer to protect from further oxidation)
Key Top Repair- We can repair or replace any type or style of key top including Ivory, Ebony, Plastic and Acrylic
Installation of Humidifier/Dehumidifier- install the DampChaser Piano Climate control system
Deep Polishing of High Gloss Piano finishes- Removal of swirl marks, surface scratches, gouges and chips. Restoration
Custom cut interior wool covers- 100% wool felt covers
Custom cut exterior(entire piano) covers: We can use vinyl, Macintosh cotton, or leather
Installation of concert style caster/stage casters
Full Piano Restoration and Refinishing
Installation of New Player Piano System
Upgrade current PianoDisc player system
We are truly a full-service restoration company which can accomplish any need you may have.
Cities served
Agoura
Agoura Hills
Alhambra
Aliso Viejo
Altadena
Alta Loma
Anaheim
Anaheim Hills
Arcadia
Arleta
Artesia
Athens
Atwater Village
Atwood
Avalon
Avocado Heights
Azusa
Balboa
Balboa Island
Baldwin Hills
Baldwin Park
Bassett
Bel Aire Estates
Bell
Bell Canyon
Bellflower
Bell Gardens
Belmont Shores
Beverly Glen
Beverly Hills
Bixby Knolls
Boyle Heights
Bradbury
Brea
Brentwood
Buena Park
Burbank
Calabasas
Calabasas Highlands
Calabasas Park
Capistrano Beach
Carson
Castellammare
Century City
Cerritos
Charter Oak
Chatsworth
Cheviot Hills
China Town
Chino
City of Commerce
City of Industry
City Terrace
Claremont
Compton
Cornell
Corona
Corona Del Mar
Costa Mesa
Coto De Caza
Country Club Park
Covina
Cowan Heights
Crenshaw
Cucamonga
Cuday
Culver City
Cypress
Cypress Park
Dana Point
Diamond Bar
Dominguez
Dove Canyon
Downey
Duarte
Eagle Rock
East Irvine
East Lake
East Los Angeles
East Tustin
Echo Park
El Camino Village
El Cariso
El Modena
El Monte
El Nido
El Porto
El Segundo
El Sereno
El Toro
Emerald Bay
Encino
Fernwood
Five Points
Florence
Fontana
Foothill Ranch
Fountain Valley
Fox Hills
Fullerton
Gardena
Garden Grove
Glassell Park
Glendale
Glendora
Glenview
Granada Hill
Hacienda Heights
Hancock Park
Harbor City
Harbor Gateway
Hawaiian Gardens
Hawthorne
Hermosa Beach
Hidden Hills
Highland Park
Hollydale
Hollywood
Hollywood Riviera
Huntington Beach
Huntington Park
Hyde Park
Inglewood
Irvine
Irwindale
Jefferson Park
Kagel Canyon
Koreatown
La Canada Flintridge
La Crescenta
Ladera Heights
Laguna Beach
Laguna Hills
Laguna Niguel
La Habra
La Habra Heights
Lake Elsinor
Lake Forest
Lake View Terrace
Lakewood
La Mirada
La Palma
La Puente
La Sierra
La Verne
Lawndale
Leimert Park
Leisure Wld-Laguna Hills
Leisure Wld-Rossmoor
Lemon Heights
Lennox
Lido Isle
Loma Linda
Lomita
Long Beach
Los Alamitos
Los Altos
Los Angeles
Los Feliz
Los Nietos
Malibu
Malibu Beach
Malibu Bowl
Malibu Hills
Malibu Lake
Malibu Riviera
Malibu Vista
Manhattan Beach
Marina Del Rey
Mar Bista
Mayfair
Maywood
Mid-City
Midway Dity
Miraleste
Mira Loma
Mission Hills
Mission Viejo
Modjeska
Monarch Beach
Moneta
Monrovia
Montclair
Montebello
Montecito Heights
Monte Nido
Monterey Hills
Monterey Park
Montrose
Moorpark
Morningside Park
Mount Olympus
Mount Washington
Murieta
Naples
Newport Beach
Newport Center
Norco
North Hills
North Hollywood
North Long Beach
Northridge
Northwood
Norwalk
Norwood Villge
Ocean Park
Olinda
Olive
Olive View
Ontario
Orange
Orange Park Acres
Pacific Palisades
Pacoima
Palisades Highlands
Panorama City
Paramount
Park La Brea
Pasadena
Phillips Ranch
Pico
Pico Rivera
Placentia
Playa Del Rey
Pomona
Porter Ranch
Portola Hills
Portuguese Bend
Rancho Cucamonga
Rancho Dominguez
Rancho Palos Verdes
Rancho Park
Rancho Santa Magarita
Red Hill
Redondo Beach
Reseda
Rialto
Riverside
Rolling Hills
Rolling Hills Estates
Rosemead
Rossmoor
Rowland Heights
San Clemente
San Dimas
San Fernando
San Gabriel
San Juan Capistrano
San Juan Hot Springs
San Marino
San Onofre
San Pedro
Santa Ana
Santa Ana Heights
Santa Clarita
Santa Fe Springs
Santa Monica
Santa Susana
Sawtelle
Seal Beach
Seminole Hot Springs
Shadow Hills
Sherman Oaks
Sierra Madre
Signal Hill
Silverado
Silver Lake
Simi Valley
South Coast
South El Monte
Sout Gate
South Laguna
South Pasadena
South San Gabriel
South San Jose Hills
Stanton
Stevenson Ranch
Studebaker
Studio City
Sunland
Sunset Beach
Sun Valley
Surfside
Sylmar
Sylvia Park
Tarzana
Temecula
Temple City
Terminal Island
Three Arch Bay
Thousand Oaks
Toluca Lake
Topanga
Topanga Park
Trabuco Canyon
Trousdale Estates
Tujunga
Turtle Rock
Tustin
Universal City
Upland
Valinda
Valley Village
Van Nuys
Venice
Verdugo City
Vernon
View Park
Walnut
Walnut Park
Warner Center
Watts
Westchester
West Covina
West Hills
West Hollywood
Westlake
Westlake Village
West Los Angeles
Westminster
Westwood
Whittier
Willowbrook
Wilmington
Windor Hills
Winnetka
Woodbridge
Woodland Hills
Woodside Village
Yorba Linda